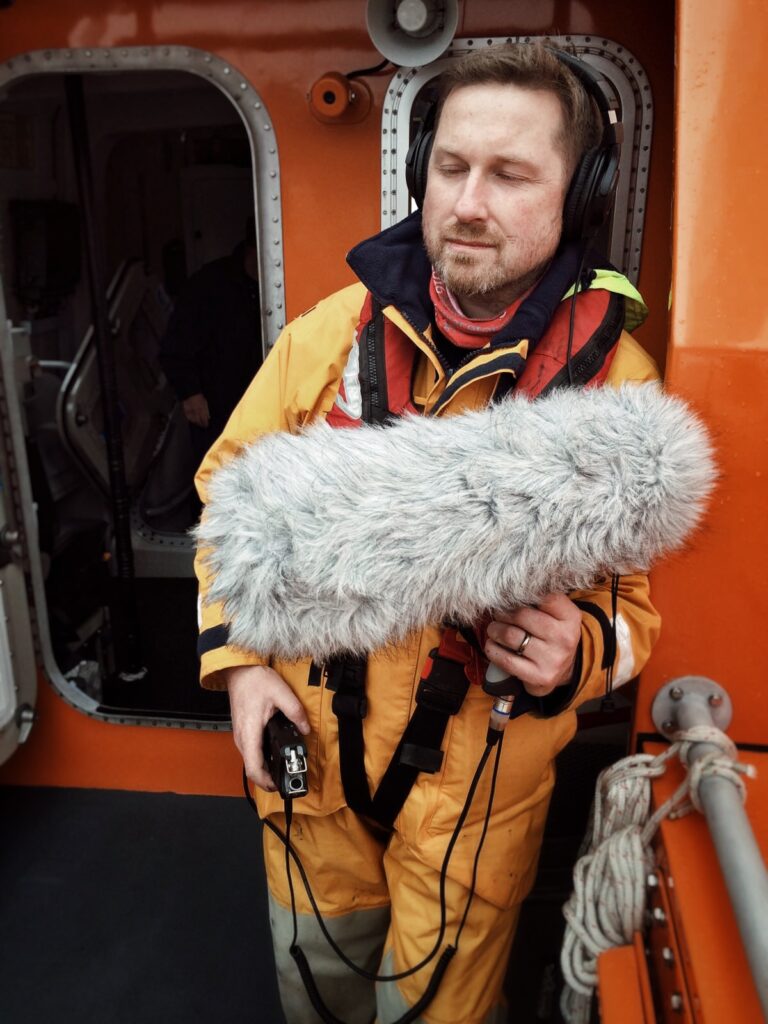 I'm one of those people who thinks they're not very good at drawing. I'm also aware that may not be true but, thankfully, I derive the same kind of catharsis from making audio recordings, so that's what I do instead.
Cutting clips from a master recording and building them into a new piece is, for me, like making pencil marks on paper — individual strokes to build a bigger picture, forming a distinct image in the mind.
I find it a very relaxing discipline, not least because of the enjoyment I hope people will derive from the final piece, especially if listening through high quality headphones or speakers.
The latter is important in order to hear the full range of sounds and to get an accurate sense of the environment created by the placement of the microphones.
By making such sketches, I hope to take listeners on a flowing sonic journey, full of detail and intrigue.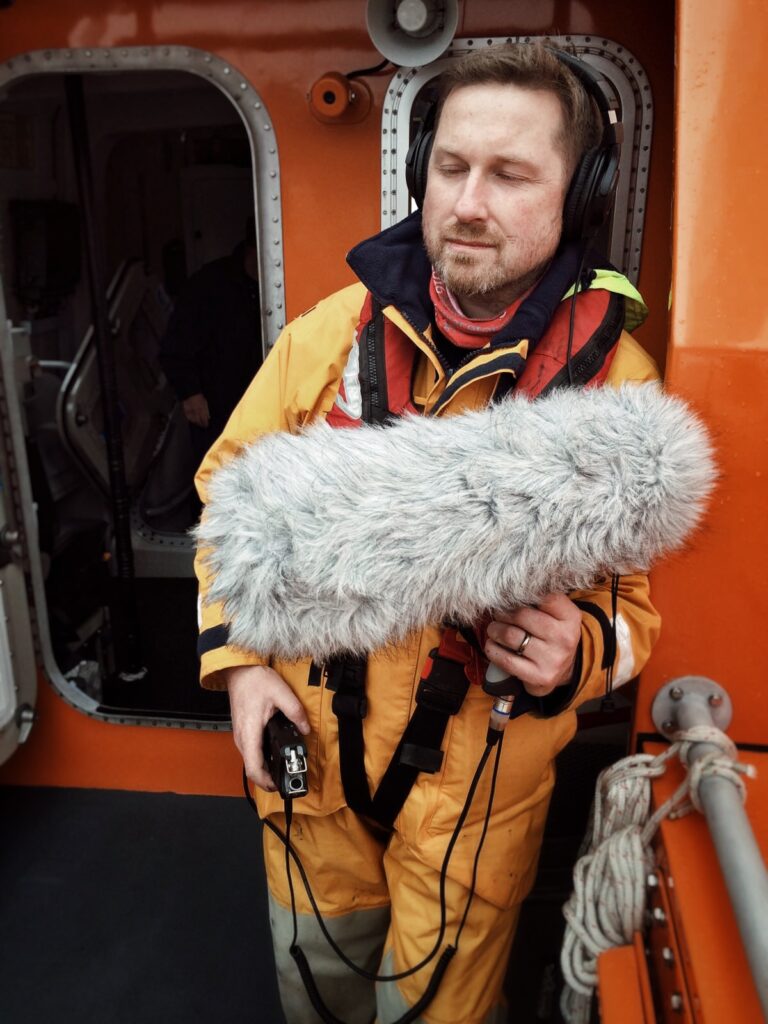 Over the last year or so, I've been pondering how to create a more robust high quality stereo setup to carry aboard lifeboats again when the time comes — the problem being, that nothing really exists on the market (as far as I can tell) to properly space and windshield the tiny pair of DPA 6060 microphones that I like to use for my field recordings.
All-weather lifeboats are brutally powerful utilitarian vessels, which eat wind and waves for breakfast. They are a sound recordists dream and nightmare rolled into one.
Roaring engines, crashing waves and howling wind is an incredible combination when you get it right but a painfully shapeless mush if you get it wrong.
Here's the short film I made in 2017 aboard the Tobermory Severn class lifeboat using the recordings I was making in the photograph above:
Furthermore, it's simply no good trying to carry delicate equipment which might get damaged or cause an injury within such a highly nautical environment.
So, I cobbled together a new rig last Saturday using equipment I had already but repurposing it with the intended scenario in mind. The Lego figure is not part of the rig, of course — he/she's there to illustrate how small the amazing microphones are!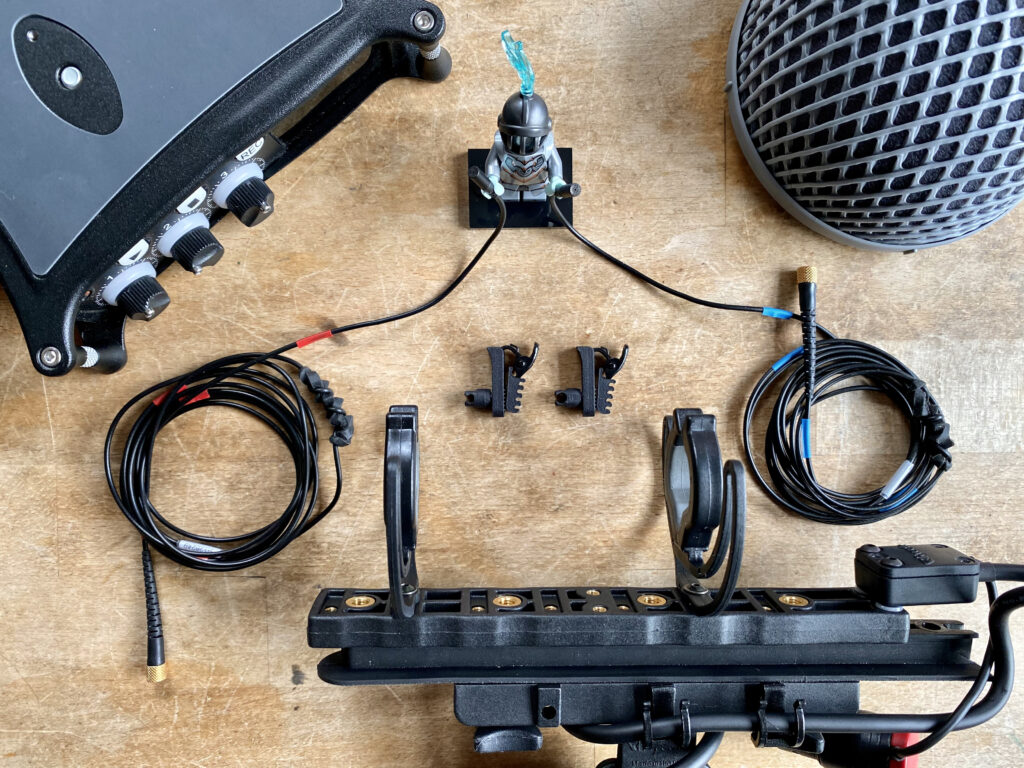 Once built, I was eager to get on and test it in the fortuitously windy conditions in the garden (a coastal test will have to wait until the 'stay local' restrictions are relaxed).
I only intended to record for 20 minutes but there was so much going on that I didn't hit 'stop' until 3 hours later.
The final 51m 27s recording consists of 70 clips from that master recording cut together chronologically. By the time you reach the end, I'm sure you'll agree it has indeed been quite a journey.
As I cut those clips together, though, one thing really struck me. The sonic environment on our own doorstep is incredibly stressful for the wildlife that share the space with us humans.
Listen carefully and you'll hear that the birds are in constant competition with the myriad of synthetic sounds.
At times, it seems like it's very difficult for them to be heard, yet still they battle on.
This observation put me in mind of a phenomenal recording chosen by Isabella Tree as one of her Desert Island Discs in 2019.
The sound of nightingales and bombers on the night of the Mannheim raid in 1942 is one of the most emotive and profound recordings I've ever heard.
You can hear an abridged version from the 31m15s mark on BBC Sounds or listen to the full recording here (thank you to Iain Shaw for bringing this to my attention):
[soundcloud url="https://api.soundcloud.com/tracks/849561316″ params="color=#ff5500&auto_play=false&hide_related=true&show_comments=false&show_user=true&show_reposts=false&show_teaser=false" width="100%" height="166″ iframe="true" /]
I also like Isabella's thoughts on the recording:
---
"Somehow it gives me hope that, whatever human beings do, nature will try and respond and do its absolute utmost to see it though and to bounce back."

— Isabella Tree speaking with Lauren Laverne on Desert Island Discs, 24 November 2019
---
Anyway, here's my new sonic sketch with a loose running order below (feel free to share your thoughts at the bottom of this post too).
As I mentioned earlier, you will need good high quality headphones or speakers to get the best experience from the recording. People often ask me what I mean by that. I'm sure those with more formal training would have other recommendations but I still love my Audio-Technica MX40 headphones.
I've been using for around 6 years, so I doubt they're available new but something along those lines will doubtless fit the bill:
---
Listen out for (in order of appearance)…
My intro
Distant motorway traffic throughout
Birdsong
Sirens
Vehicles passing on the main road nearby
A woodpecker
A woman singing in the distance
Somebody doing DIY
Leaves rustling in the wind
A dog barking
Birds close to the microphones
People chatting as they walk by
Distant raucous singing and shouting
Somebody calling out 'Jack!' [different Jack]
Birdsong like sci-fi laser shooters
An aeroplane high overhead
Wood pigeons
Birds 'displaying' to each other
A creature walking close to the microphones
The sound of tiny wings flitting about nearby
Magpies
A van passing
Wind high in the trees
Bassy music booming from a car
An insect passing close to the microphones
A helicopter passing overhead
Car doors closing
A neighbour doing some gardening and moving pots around
Distant screaming
The birds returning when my neighbour heads inside
The wind gusting more strongly
A heavier duty helicopter
Me returning to check on the equipment and take a photograph
Gulls overhead
Ducks overhead
A motorbike buzzing about accompanied by a helicopter
The tinkling of dogs' collars
Our front door closing
The evening chorus, including a very close blackbird
Car horns
Passers-by with a suitcase on wheels
Collecting the equipment
…and all of this happened in just three hours. An urban environment sure is hectic, even in times like these.