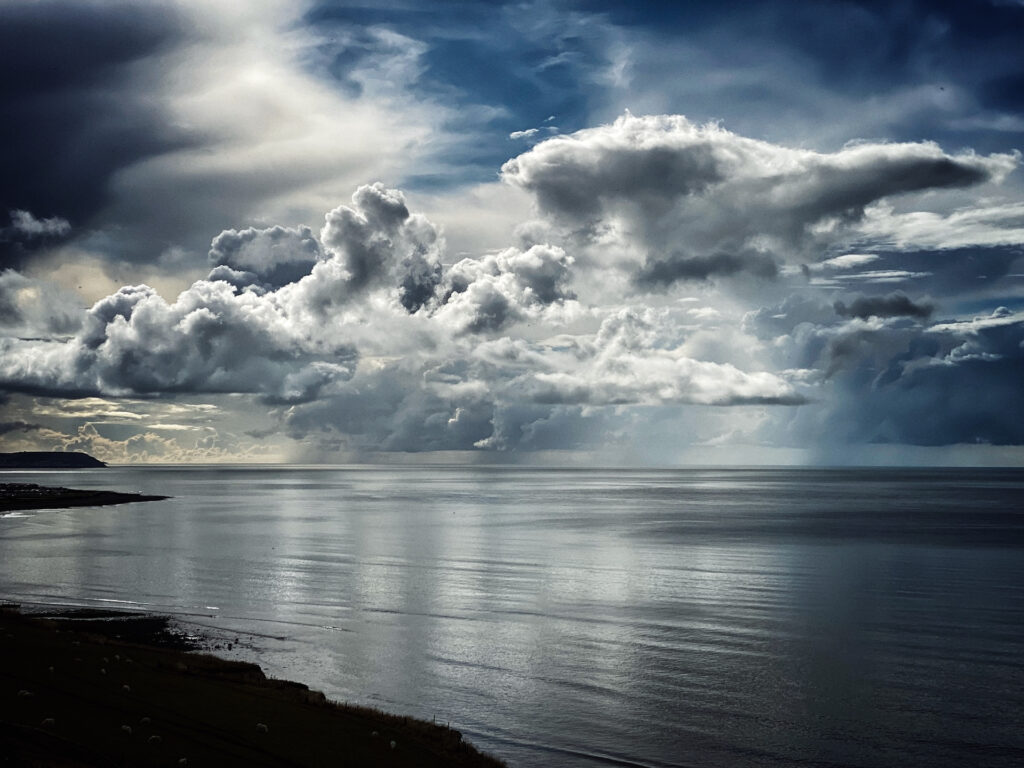 Climate Crisis: Be The Sentinel
This blog post has been a long time in the making through a journey of looking, listening, learning, despairing, raging and, ultimately, endeavouring to make a stand in this topsy-turvy world.
Everything I ever knew, everything I ever worked towards, is shifting beyond recognition and, in some instances, has completely evaporated.
Perhaps you're struggling with this feeling too? I wouldn't be surprised.
If we're of a similar age (I'm 47), you'll likely recall the conditioning from childhood:
go to school
do your homework
get good grades
go to university
get good grades
get a decent job for life
buy a house
buy a car
keep working hard
pay your taxes
have kids
buy another car
keep working hard
pay your taxes
have holidays
buy another car
pay off your mortgage
retire at 65
receive a healthy pension
enjoy the sunlit uplands of retirement
Very simplistic, I know, but that's the crux of the life I was conditioned to believe was ahead for me.
But a few things went awry in that plan. That's life, though, right?
One of those things was feeling asphyxiated by that road map and realising it wasn't for me.
It felt naughty and taboo to me as a youngster to even dream of steering away from it. However, I knew I wanted to be a photographer from the age of 8, so I got quite used to boring adults telling me that I'd have to get a proper job and maybe keep photography going as my hobby.
But I plugged away nonetheless and, to cut a very long story short, I went all-out when it came to insisting on creating something special in the form of The Lifeboat Station Project, which I've been making since 2015.
When people like me insist on earning a living from our creations because we believe in them so much, that in itself blows apart the simplistic road map. Flying by the seat of our pants becomes the order of the day!
And when something like 2020, 2021 and 2022 happens, everything we ever knew, everything we ever worked towards becomes unknown — not just for people like me but for most people.
Even now in January 2023, folk still keep talking about when things return to normal but the framework we once knew has gone. We need the collective courage to face up to that because it's very destructive and disingenuous to do otherwise.
Not only has the framework gone but, for creative types like me, it feels like the framework has disappeared altogether. My main daily task now mostly involves working out how on earth to build a new structure — a new framework — and how to function within it.
Scales Falling
These last three years have often induced periods of pause and reflection, which have allowed space for newness in my life; new thoughts and new realisations.
Again, to cut a very long story short, the scales have been falling from my eyes and I feel like I see the world completely differently to how I once did.
Perhaps you do too? Perhaps you've had revelations and epiphanies that now make it hard for you to progress in the ways that you once did?
The major revelation for me has been the true extent of global heating, also known as climate change, climate breakdown, the climate crisis…the climate emergency.
It really is an emergency and my approach to life is rapidly shifting accordingly.
I'm still utterly devoted to The Lifeboat Station Project but I've reached a point in life where I also feel so acutely aware of the scale of the crises we face that it no longer seems appropriate or enough to simply write and talk about my project.
Furthermore, I feel it's imperative for creators to use their skills to strengthen the message of the climate emergency wherever possible.
This was hammered home for me recently when leafing through Peter Kennard's incredible book, Visual Dissent.
On page 124, he writes:
"Now in the midst of climate emergency, it's even more imperative that artists act as early warning systems, positioning themselves as the canaries in the coalmine. Through our work, we need to imagine the dystopian reality of where the earth is heading and to work with activists struggling to find another way."
Those words were written in 2006, which only serves to highlight the urgency some 17 years later!
That said, although I agree with Kennard's sentiment, I disagree with the canary in the coalmine analogy and the imagining of the dystopian reality.
To elaborate:
Canaries in the coalmine died first when the air became too toxic, which warned the coalminers of imminent danger for themselves.
So that's no good — I don't think us creators should be the canaries!
Us creators need to be the sentinels, beacons, searchlights, spotlights, guard posts, loud hailers and town criers. Indeed, we need to be the early warning systems in the climate emergency.
We also have to be careful what we manifest through our thoughts and actions, so imagining the dystopian reality is not what we want either.
Although realism is important when facing up to what's coming, we need to imagine the world we do want, not the one we don't want.
By imagining the world we want, maybe — just maybe — we'll manage to make it happen.
Community Thinking
So, what have I done about all this?
Well, this website has been through many incarnations since its inception in 2000 and, by reading this post, you're actually in the midst of something new that I'm sharing with with you for the very first time:
I've completely overhauled the site, not only in appearance but in the very way it's geared.
It's no longer focused on my photography and audio recordings, but on the foundations of a new community for people like you and me.
So, it now features our very own community space — a bespoke social platform free of ads and algorithms, which I hope will mature into a safe place for us to share our thoughts and findings during such difficult social, economic and environmental times.
It's a public platform but you'll need to create an account to take part. It won't cost you any money, although donations are gratefully received to help with its upkeep.
Once registered, you'll find there are many features common to other social platforms, so it should be pretty self-explanatory.
These are just some of the things you can do:
upload a profile photo
upload a cover photo
follow and connect with other community members
post in the news feed
edit posts
share photos
edit privacy of posts
send and receive direct messages
And if the community space isn't for you, the newsletter is a great way to stay connected too.
I recommend you do both as we build this new community together but, of course, the choice is yours.
Conversation…on our terms
By building all this, I'm endeavouring to turn my personal comms on their head.
While those scales have been falling from my eyes, I've come to rely on Twitter far too much for fighting the good fight. But it's become an addictive, anxiety-filled space for me, tapping right into my obsessive, neurodivergent makeup.
I can feel its tractor beam sucking me in and holding me in place, pinned to its cyber walls. Twitter's fantastic in so many ways but I despise how it can bring out the worst in me within moments.
That's no good and, for what it's worth, I'm really questioning it's overall place and value in the world.
I need and enjoy space to write with expression and nuance — a space like this!
So, true to my Be The Goalposts mantra, I've built this new space for me, for you and for us to have the conversation on our terms.
By sharing my thoughts and findings with more nuance, expression and detail — as well as bringing some of my other communication and technical skills into the mix — this is my way of being one of the sentinels, a beacon in the early warning system.
I'll doubtless still use Twitter — and Mastodon — but increasingly to direct people towards the missives and creations here, all in an effort to increase the momentum of positive action and quash the toxic negativity.
Onwards…
There's much more to share with you on my journey of learning, despair, rage and action. For example, my involvement with Extinction Rebellion (something I never thought I'd be writing) but I think that's enough to digest for the moment!
So, let's see how it goes shall we?
I hope you'll join in the discussion as we work out how to function — and simply how to be — in this grave new world.
I sincerely hope you'll register as one of the pioneering members of this new community (look out for the links in the side menu and/or the top right corner) and signup to the newsletter.
If you have any feedback or would like to get in touch, please send me a direct message via the community space or use the Contact Jack form.
I'll look forward to hearing from you, wherever your comments may land.
Love and courage,
Jack